Dallas' Most Immersive Christmas Event
Free Admission • 2nd Weekend in December
Find out why we're a popular tradition for the Paulding & West Cobb area! Go back in time to our living city of Bethlehem, where your group will discover the real reason for the season by traveling the streets, meeting merchants & families while looking for an inn.
Join us this Christmas!
December 8th, 9th, & 10th
Friday
December 8th
6:00-9:00PM
Saturday
December 9th
5:00-9:00PM
Sunday
December 10th
4:00-8:00PM
Registration opens 15 minutes prior
Note: our end times just represent when registration closes. Guests will still be given a tour if they checked-in before closing.
Dates and times are subject to change if conditions are unsafe.
We'll have two free screenings of our movie after our in-person event
Wednesday, December 20th
6:00PM & 8:00PM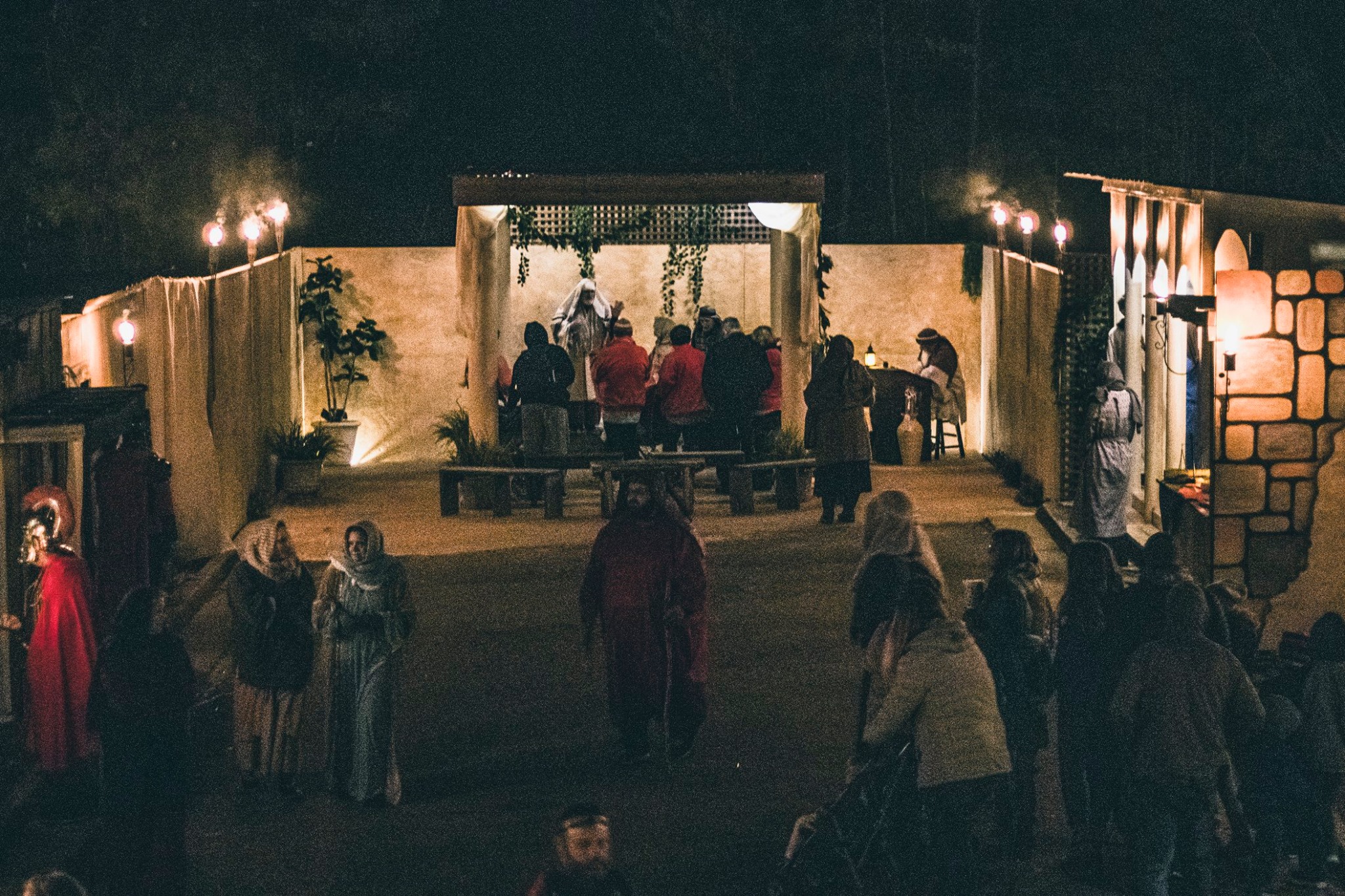 We've got raving fans. Just check out some of our reviews from facebook:
This was a great experience! We really enjoyed it and look forward to doing it again next year. Thank you for doing this!
Heather Watts Dobrinski
Amazing night, loved every minute of it. Beautiful story and amazing performances. 💖
Jackie Smith
Very well done. Organized. Great message about Jesus!
Kory Burel
Awesome experience for the whole family! It puts reality to the stories we read. Simply awe inspiring.
Sandy Olcott
"It's a must-see!"
Sounds pretty convincing, right? Did we mention it's free?
Frequently Asked Questions
Got some questions? We'll try to answer them!
Is this a walk-through or a drive through?
Your group will be guided through the city of Bethlehem on foot, but you will be taken to and from the city on a hay-ride style wagon.
Where is this held at?
We're hosted by Legacy Baptist Church in Dallas, GA. Located about 5 minutes from downtown Dallas on Hwy 381. Our address is 2976 Dallas Acworth Hwy, Dallas, GA 30132
What's the cost of admission?
FREE! This event is offered as a gift to our community, bringing joy and hope to families all around north western Georgia.
What about inclement weather?
If it's a light drizzle, we will assess the situation. Heavy rain or snow prevents us from safely operating this event, so we will keep you posted here and on Facebook if something changes.
What should I wear?
Dress in layers! You'll be waiting in our heated auditorium, but Bethlehem is 100% outdoors! So you will want warm clothing that you can take off while waiting.
Is this family friendly?
Of course! We love our groups with little-ones. Bring them along!
How long is the tour?
The average tour lasts a bit under an hour. A majority of that time will require walking on level pavement, but you will be taken to and from the city in a hay-ride style wagon.
Is it handicap accessible?
We have done our best to make accommodations for everyone, when you register, please let our cast members know that you will need assistance.
How do I register?
You will be able to register when you arrive. You will be given a number for your group, and we will call them in sequence (this way you'll know if your turn is coming up) and ask you to gather your group to our loading area.
How long will we have to wait?
For most of the time, waiting times are under 40 minutes. However in some cases, we might have longer wait times. We will have snacks, drinks, and merch available to purchase. As well as entertainment in our auditorium while you wait!
What if I have a large group?
Large groups will register together and be given a number, but we may have to split your party up in the loading area, since our wagons can only hold so many people at a time. You will get separate guides, but you will be going down to the city after each other, so you won't be too far apart!
How can I get involved?
There's a lot of moving parts, if you want to be apart of this awesome event: Check out our volunteer page and you can register there.
Watch the Movie
In 2020, we made a movie instead of having in-person tours. In 2021, we released it again. Now you can watch it anytime right here.